Ky Governors Mansion Essay Contest 2016
Deadline is Jan. 27
FRANKFORT, Ky. (Jan. 12, 2015) — Kentucky students have until Jan. 27 to submit entries to the Kentucky Department of Agriculture's 2015 Poster and Essay Contest, "Kentucky Agriculture: Growing the Next Generation of Farmers."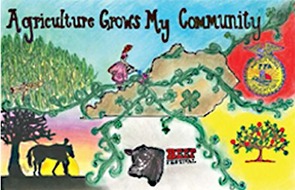 "Kentucky needs more young farmers to carry on for older farmers who are retiring or scaling back," Comer said. "We hope this contest will inspire some of Kentucky's young people to go into farming or look into some of the many other exciting careers in agriculture."
Students are asked to submit either a poster, an essay, or a digital image based on the contest theme. Statewide poster and essay winners from each grade, kindergarten through 12th, will be chosen, and an overall digital winner will be selected. Cash prizes will be presented to the winners in March at the Kentucky Agriculture Day Celebration, and their work will be displayed at the Kentucky State Fair in August.
Entries must be postmarked no later than Jan. 27. A completed entry form must be taped or glued to the back of each entry. The name of the teacher and school must accompany each entry. Winners will be notified on Feb. 20.
The contest is conducted by the Kentucky Department of Agriculture in partnership with Kentucky Agriculture and Environment in the Classroom Inc.
For more information, including complete contest rules and entry forms, go to www.kyagr.com/agcontest or contact Agriculture Education Coordinator Jordan L. Spalding at (502) 782-4125 or [email protected].
Contact: Woody Maglinger
502-564-2611
Woody.Maglinger@ky.gov
Erin Mitchell
502-564-2611
ErinB.Mitchell@ky.gov
FRANKFORT, Ky. (Jan. 18, 2018) – First Lady Glenna Bevin is excited to launch the 2018 Kentucky Derby Poster Contest online with the help of Kentucky Interactive. High school students throughout the Commonwealth will have the opportunity to create the Governor's Derby Poster, to be displayed in the State Capitol for years to come.
Mrs. Bevin asks high school students to design the poster with this question in mind: "What does the Kentucky Derby look like to you?"
"Matt and I were so pleased with the outcome of last year's contest," said First Lady Glenna Bevin. "It is very important to give students the chance to use their creative skills for a greater cause. It empowers them and gives them confidence to share their own ideas."
The three contest finalists will be invited to attend a luncheon at the Governor's Mansion on March 10, 2018, where the winner will be revealed.
The winner will have the opportunity to attend the Kentucky Derby Festival Luncheon and will receive a $500 scholarship. Second place will receive a $300 scholarship and third place a $200 scholarship from #WeAreKY, Inc. Foundation.
The deadline for submission is February 28, 2018. For full details, please visit firstlady.ky.gov.