Georgia Bulletin Priest Assignments Rockville
Database of Publicly Accused Priests in the United States
Viewed by Last Name:
A B C D E F G H I J K L M N O P Q R S T U V W X Y Z
Return to main database page. See abbreviations and posting policy. Send corrections.
The Database of Publicly Accused Priests does not state or imply that individuals facing allegations are guilty of a crime or liable for civil claims. The reports contained in the database are merely allegations.The U.S. legal system presumes that a person accused of or charged with a crime is innocent until proven guilty.Similarly, individuals who may be defendants in civil actions are presumed not to be liable for such claims unless a plaintiff proves otherwise.Admissions of guilt or liability are not typically a part of civil or private settlements.For more information, see our posting policy.
Last
First
Ord
T
Status
D/O
Notes
Diocese
Source/Assignments
Caboang
Honorato (Henry)
1960
P
Sued
Diocesan
Sued 1984. Caboang & six other priests accused of abuse of 1 girl. LA archdiocese report shows 1 accuser. Extern priest from Phillipines working in Archdiocese. Claims against Caboang and the other 6 priests resolved for $500,000 as part of $660 mil settlement in Fall, 2007.
Los Angeles, CA
Source:
Milla v Tamayo, 187 Cal Ap 3d 1453; UPI 02.08.84; LA Archdiocesan Report 02.17.04; LA Times 12.05.07
Assignments:
LA Times Database 4.20.06
Cabot

Samuel Charles
B
Sued
Franciscan
Accused of abuse between 1980-1985. Removed from public ministry in 2002. LA archdiocese refers to 2 accusers. Two female cousins filed a civil suit in 2003. Claim settlement announced 8/06. Cabot "may be" the perpetrator in 8/08 civil suit. Plaintiffis uncertain. See additional information in 2 suits filed fall, 2009. Personnel file released 5/12.
Los Angeles, CA
Source:
John Roe 4 vs. Does, Cause No. 1156450, Superior Court of California; LA Archdiocesan Report 2.17.04 page 6; Associated Press 10.02.03; Santa Barbara Independent 08.10.06; Santa Barbara Independent 06.21.07; First Amended Complaint in Cunningham v. Franciscans, Cause No. 1265207, Santa Barbara Superior Court, CA 08.06.08; Santa Barbara Independent 08.15.08; Ernesto C. v. Franciscans, Cause No. 1337577, Santa Barbara Co. Superior Court 10.05.09; Clover v. Franciscans, Cause No. 1338070, Santa Barbara Co. Superior Court 11.03.09; Opinion in John Doe 1 et al V. Franciscan Friars of California, Inc., 09.30.10; Metropolitan News Enterprise 10.02.10; CBS Los Angeles 05.23.12; LA Times 05.23.12; Personnel file posted on BishopAccountability.org 05.23.12; San Antonio Express News 05.23.12
Assignments:
LA Times Database 4.20.06
Cabral

Kenneth J.
1950
P
Accused
Diocesan
Accused of abuse at St. Catherine of Siena in Martinez 1964-1965. Named publicly in 2004 at one of the Diocese's apology services. Absent on sick leave 1987-1991, then retired. Reportedly died in March 1996.
Oakland, CA
Source:
Diocese of Oakland Apology Services 2004; Bay Area News Group 04.01.08; Contra Costa Times 04.01.08
Assignments:
BA.org Assignment Record
Cadwallader

George B.
1992
P
Accused
Diocesan
One of 21 priests placed on administrative leave by Philadelphia archdiocese 3/7/11 pending investigation for credible allegations involving sexual abuse or inappropriate behavior with minors. Last assignment was as parochial vicar of St. Vincent de Paul Parish in Richboro. In 5/12, Archdiocese found allegations of violation of Standards of Ministerial Behavior to be substantiated. Currently 58 yrs old, he was found unsuitable for ministry.
Philadelphia, PA
Source:
Archdiocese of Philadelphia Press Release 3.8.11; NY Times 3.8.11; Philadelphia Inquirer 3.8.11; Philadelphia Inquirer 3.9.11; Philadelphia Inquirer 5.4.12; Philadelphia Inquirer 5.4.12; Philly Burbs 5.4.12; Statement by Archdiocese of Philadelphia 5.4.12; Statement by Archdiocese of Philadelphia 5.4.12; Statement of Cardinal Rigali Regarding Administrative Leaves 3.8.11; The Patch 5.4.12; Philadelphia Inquirer 03.10.11
Caffoe

Lynn Richard
1971
P
Accused
Diocesan
Archdiocese received notice on 1/21/75 that Caffoe sexually abused altar boys at his first parish. Faculty had been concerned during his seminary training at St. John's in Camarillo. File summaries indicate at least 15 victims. Accused in every parish, including St. Callistus in what is now the Orange diocese.. Removed after his therapist reported to authorities on 5/8/91. Treated at St. Luke's Institute 1991-92. Laicized 1/06. Settled 7/14/07. Died in 2009. Personnel files released 1/13.
Los Angeles, CA
Source:
BishopAccountability Summary of Caffoe Reports; Exhibit 52 Caffoe Documents; Selected Caffoe Documents from 1975; LA Times 08.18.02; LA Archdiocesan Report page 1 02.17.04; LA Times 04.20.06; LA Times 09.09.06; LA Times 03.20.07; The Tidings 03.21.07; Orange County Weekly 10.11.12; LA Daily News 10.12.12; Huffington Post 01.21.13; Orange County Weekly 01.24.13; God Discussion 02.01.13; LA Times 12.01.13
Assignments:
BA.org Detailed Assignment Record with Links; LA Archdiocesan Report Addendum 11.15.05
Cahill
Raymond J.
1947
P
Accused
Diocesan
Name is included on secret 1994 memo from Wm. Lynn to Msgr. James Molloy (released 2/27/12) re priests in secret archives who were accused of sexual misconduct with a minor but for whom no conclusive evidence was found. He died sometime between 1989 and 1994 when memo was written.
Philadelphia, PA
Source:
1994 Memo from Fr. William Lynn to Asst. Vicar for Admin. re Names in Philadelphia Secret Archives, released 02.27.12; The Patch 04.01.12
Cahill

William B.
1946
P
Accused
Jesuit
Accused of abuse of at least 3 male students at Cheverus High School between 1950-1960 per documents released by Maine AG in 2005. Died 2/5/86.
Portland, ME
Source:
Maine AG Document Production 05.27.05; Maine AG Document Production 07.08.05
Assignments:
BA.org Assignment Record
Cain
Gervase
1957
P
Charged
T.O.R. (Franciscan)
Taught in PA schools, pastor of PA and WV parishes, taught at St. Francis Univ. in Loretto PA for 20 yrs, VP there 1976-83. Retired to Franciscan retirement facility in Frederick County VA. Arrested 7/26/17, charged with taking indecent liberties with a child by a person in a custodial or supervisory relationship. Complaint was said to have first been filed in 2003 re abuse by Cain of a 15-yr-old girl at her home in Fairfax. First reported in 2004, later withdrawn, reopened in 5/17.
Arlington, VA
Source:
Washington Post 07.27.17; WTOP 07.27.17; Altoona Mirror 07.29.17
Cain

Thomas J.
1945
P
Accused
Diocesan
Died 1984. The archdiocese announced on its website 10/27/14 that Cain was accused decades after his death of having sexually abused minors, and that the Archdiocesan Board of Review found the allegations to be credible. Cain worked in Pontiac, Monroe, Mt. Clemens, Detroit and from 1960-1984 in Livonia.
Detroit, MI
Source:
Archdiocese of Detroit 10.27.14; SNAP 11.13.15
Cairns
James
1969
P
Accused
Vincentian
Accused of abuse between 1971-1973. LA archdiocese counts 1 accuser.
Los Angeles, CA
Source:
LA Archdiocesan Report 2.17.04 page 4
Assignments:
LA Times Database 4.20.06
Calabrese
Daniel A.
1987
P
Convicted
Diocesan
Convicted 1992 of abuse of teenage boy. Sentenced to 90 days in jail, 5 yrs probation, and 1 yr treatment. Previously transferred twice because of allegations involving youths. Civil suit 1993. As of 2003, he was living in New Mexico and was listed as being on a "leave of absence" per 2002 Cath. Dir. Laicized 2005.
New York, NY
Source:
Journal News 7.9.05; National Catholic Reporter 3.5.93; Newsday 4.2.92; Newsday 7.9.05; Washington Times 10.10.92; NY Times 02.24.93; USA Today 11.11.02; Poughkeepsie Journal 06.30.05
Assignments:
BA.org Summary of Directory Entries
Calamari

Paul
1980
P
Accused
Diocesan
Credible allegation of abuse. Believe abuse occurred prior to ordination. Name first appeared on list of abusive priests released by Bishop Saltarelli of Wilmington, DE 11/16/06. Began working in Wilmington Diocese in 1997. Removed from ministry 2003. Was working as field supervisorfor Penn State Univ's Center for Survey Research until name released. Also worked for PA. Dept of Corrections. Wilmington Diocese repleased personnel files released 2/12.
New Orleans, LA
Source:
News Journal 11.16.06; The Dialog 11.16.06; WBAL 11.16.06; News Journal 11.19.06; Times Picayune 11.28.06; Diocese of Delaware List of Accused Priests 02.16.12
Assignments:
News Journal 11.16.06; BA.Org Parish Assignments of Accused Delaware Priests
Calhoun
Ernest Dale
1968
P
Settled
Diocesan
Ordained by Beaumont TX diocese. Personnel file says should never have been ordained. Raped a 15-yr-old boy in 1969. Served as US Navy chaplain in mid-1970s. Transferred to Yakima Diocese; continued to abuse. At least 1 claim against Beaumont diocese settled 1998 without litigation. Suit filed in WA in 1988 against Calhoun and R. Scully settled in 1994. 3 known victims in 1980s in WA. Also worked in Seattle. No longer active priest. May have gone to live in TX. 10/11 suit in WA settled 12/12 for $50K. & 5/13 suit settled 2/14 for $75K. Name included on the Seattle archdiocese's 1/15/16 list of clergy and religious with established, admitted or credible allegations against them of sexual abuse of a minor.
Beaumont, TX
Source:
CJC v Bishop of Yakima, 94-2-01931-5, Snohomish Co 07.25.94; CJC, Appellant v Bishop of Yakima, WA Court of Appeals, 943 P2d 1150, 09.22.97; Associated Press 07.29.99; Seattle Times 04.14.02; Statement by Bishop Sevilla of Yakima 10.14.03; Yakima Herald Republic 02.28.04; Yakima Herald Republic 01.07.07; Voice from the Desert 09.10.08; Yakima Herald-Republic 07.04.10; Yakima Herald 10.13.11; Beaumont Enterprise 10.14.11; Yakima Herald Republic 10.21.11; Yakima Herald Republic 01.15.13; Wenatchee World 02.16.13; Yakima Herald-Republic 02.21.14; SNAP Statement 02.24.14; Archdiocese of Seattle List 01.15.16; The Stranger 01.15.16; Yakima Herald 01.24.16
Assignments:
Archdiocese of Seattle List 01.15.16
Calhoun
James R.
1955
P
Accused
Diocesan
Died in 1996 after being permanently removed from ministry 3/93. Believed to have abused several youths. One man said he was forced to "lure sex partners" from local park for Calhoun and another priest in 1981-1983. Also claimed Calhoun was part of a homosexual ring of abusive priests. Named as abuser in 7/94 civil suit. Another suit said he covered abuse by Robert Vonnahmen.
Belleville, IL
Source:
Belleville News-Democrat 3.7.03; St. Louis Post-Dispatch 7.2.94; St. Louis Post-Dispatch 03.19.93; St. Louis Post-Dispatch 07.24.93; St. Louis Post-Dispatch 07.29.93; St. Louis Post-Dispatch 08.20.93; Chicago Tribune (AP) 05.20.94; St. Louis Post-Dispatch 05.22.94; St. Louis Post-Dispatch 01.14.95; St. Louis Post-Dispatch 05.29.96; Belleville News-Democrat 07.14.02; Belleville News-Democrat 04.24.07
Calicott

John Walter
1974
P
Sued
Diocesan
Suspended 1994 due to accusations of sexual molestation of two 15-yr-old boys in 1976. Sent to treatment; deemed "no significant risk" and allowed to return to assignment in 1995. Removed again 6/02 after Dallas Bishops Conference. Sued 2004. Included on 2003 Chicago Archdiocese list of accused priests. Canonical court trial pending 9/05. Laicization announced 10/27/09. Personnel file released 11/14; one man said at the time that Calicott abused him when he was a 12-yr-old altar boy at St. Aibe's on the South Side in the 1970s. Accused of abuse of at least four boys.
Chicago, IL
Source:
Chicago Sun-Times 04.12.94; Chicago Tribune 04.12.94; Chicago Tribune 06.16.95; Chicago Tribune 10.13.95; Chicago Tribune 10.15.95; Dallas Morning News 06.12.02; Chicago Sun-Times 06.15.02; Chicago Tribune 06.17.02; Chicago Tribune 06.20.02; Chicago Tribune 06.24.02; Chicago Sun-Times 01.17.03; Chicago Tribune 06.08.03; Chicago Sun-Times 01.22.04; Chicago Tribune 02.01.04; Chicago Tribune 03.04.04; Chicago Sun-Times 03.09.04; Chicago Tribune 03.09.04; Chicago Tribune 12.04.04; Chicago Sun-Times 09.27.05; Chicago Breaking News 09.27.09; ABC News 11.06.14; Chicago Tribune 11.07.14; Archdiocese of Chicago Documents 11.11.14; Chicago Tribune 11.12.14
Assignments:
Calicott Personnel File Released by Archdiocee 11.14; Jeff Anderson & Associates Timeline; BA.org Assignment Record
Calimari
Joseph
P
Sued
Diocesan
Accused in one civil suit filed summer, 2007 of abusing 1 youth and his older brother at Christ the King Church in Perrine in 1960s when they were both very young. Older brother committed suicide in 2006.
Miami, FL
Source:
Miami Herald 07.19.07
Callaghan
George J.
1956 ?
P
Settled
Augustinian
Personnel files released 12/02. Accused of sexual advances in 1983 toward a 17-yr-old boy in rectory bedroom of Lawrence MA parish. Matter settled. Same youth accused Rev. Alfred M. Murphy O.S.A., assigned to same parish, of repeatedly sexually abusing him a few months later during a cross-country trip. Callaghan accused also of sexually harassing a 22-yr-old male employee of the MA parish. Settled 1993 for $17K. Transferred late 1980s or early 1990s to Augustinian headquarters in PA, then to nursing home due to Alzheimers disease. Died 12/24/08. Name omitted from 2011 Boston AD database because he was an Order priest..
Boston, MA
Source:
Boston Globe 12.12.02; Boston Herald 12.12.02; Lowell Sun 12.12.02; Philadelphia Daily News 12.20.02; Philadelphia Inquirer 12.21.02; Union Leader 12.29.08; Boston Globe 11.20.11
Assignments:
BA.org Assignment Record
Callahan
Raymond
P
Charged
Diocesan
At least one claim against Callahan included in $1.3M settlement with 16 men who alleged abuse between 1962-1982. Accused of abuse in 1960s. Assigned to St John the Evangelist Church in Clinton, MD Reportedly would take boys to a cabin in VA. Removedfrom ministry in 1971. He was criminally convicted but apparently did not serve any prison time.
Washington, DC
Source:
Washington Post 12.16.06; Washington Post 12.02.10
Callan
Francis W
1946
P
Accused
SJ
Worked in Seattle archdiocese from 1960-1962. Also worked in San Francisco, Spokane, Great Falls, Boise City, Baker, Seattle, Gallup, Tucson, and Portland OR dioceses. Gallup and Tucson assignments in 1962-1968 were in the California province, not his home Oregon province. As part of Section 13.1, Non-Monetary Commitments, of the Society of Jesus, Oregon Province, Reorganization Plan (dated 7/18/11) the province agreed to post on its website the names of all members of the province who are identified as perpetrators of sexual abuse in proofs of claim filed in the bankruptcy, and who have not denied the allegation. Callan's name is included on this list without any additional information on claims against him. Died 4/19/91.
Portland, OR
Source:
FindAGrave 04.19.91; Jesuits Oregon Province website accessed 12.07.12; SNAP Press Release 03.24.14
Assignments:
BA.org Assignment Record
Callanan
Patrick J.
1952 ?
P
Accused
Diocesan
Callanan, who died in 1975, is included on 6/02 list of 15 priests with ties to Tucson Diocese who are alleged to have abused minors. Article says allegation was received in 6/02. No other information known.
Tucson, AZ
Source:
Tucson Diocese Press Release 06.21.02; Arizona Daily Star 06.22.02; Tucson Citizen 02.27.04; Tribune 02.07.10
Assignments:
Diocese of Tucson List of Accused Priests n.d.
Camacho
Antonio
P
Accused
Diocesan
Extern priest from Mexico working in Stockton Diocese and in in Oakland diocese. Accused of abuse of 2 high school boys at St. Stanislaus in Modesto between 1/11/82 - 02/17/84. He was briefly at St. Anthony Parish in Hughson 12/81 - 1/82. He was removed from position and returned to Mexico at request of (then) Bishop Mahony of Stockton. Named in Cardinal Mahoney's 2004 deposition and a memo from Bishop of Stockton to police. Name is included on list of claimed abusers attached to Stockton Diocese's 5/9/14 filing in bankruptcy court.
Stockton, CA
Source:
Deposition of Cardinal Roger Mahony 11.23.04; LA Times 12.10.04; San Francisco Chronicle 12.11.04; LA Weekly 12.17.04; Media Watch 10.12.06; Bay Area News Group 04.01.08; Contra Costa Times 04.01.08; SNAP Statement with link to Stockton Diocese Notice of Deadline for Filing Claims in Bankruptcy Court 07.16.14; Mercury News 07.18.14
Camellia
Mother
N
Sued
Ursuline
One woman alleged abuse by Mother Camellia, Mother Henrietta, and Sister John at St. Ignatius Mission on Flathead Indian Reservation. Allegations are included in 9/11 civil suit against Ursuline Order and Helena Diocese filed by 45 people against multiple nuns, 6 priests and 2 brother.
Helena, MT
Source:
The Missoulian 09.27.11; John Does 1-16 et al v. Ursuline Sisters, Diocese of Helena, et al, Cause No. ADV-2011-936, Montana First Judicial District Court, Lewis & Clark County, 10.03.11
Campanalonga
Michael G.
1962
P
Sued
Diocesan
Accused of molesting and abusing three brothers in late 60's/early 70s including on trip to California. He was permanently suspended in 1993 after refusing psychiatric evaluation after allegations of sexual abuse were made. Two of the three brothers sued him in 1994. SOL stopped legal action and case dismissed 2002 after several appeals.
Newark, NJ
Source:
Star-Ledger 05.25.96; The Record 05.25.96; Star-Ledger 11.18.98; The Record 11.18.98; Record (NJ) 10.23.99; The Record 11.23.99; The Record 03.13.02; USA Today 11.11.02
Campbell

Alvin L.
1952
P
Convicted
Diocesan
Arrested on sexual assault charges in 1985. Owned child porn. History of abuse involving numerous victims going back at least 20 years. Convicted and sentenced to 14 yrs prison. Released 1992. Bishop requested laicization in 1989 but was denied by Ratzinger because Campbell did not agree. He later agreed and was laicized (1992?). Died in late 2002. At least 1 civil suit settled in 2004 mass settlement. Six more victims from 1970s and early 1980s settled with Diocese 1/07 for $625K total.
Springfield, IL
Source:
UPI 08.08.85; UPI 10.26.85; San Jose Mercury News (Major Accounts) 12.31.87; AP 10.28.99; State Journal-Register 10.29.99; Dallas Morning News 06.12.02; St Louis Post-Dispatch 10.30.03; State Journal-Register 03.13.05; State Journal-Register 01.20.07; Telegraph (UK) 05.31.10; Washington Post 05.31.10
Campbell
Andrew S.
1981
P
Settled
Benedictine
Campbell, then head of English department at St. Vincent University, placed on leave 2002. Woman filed suit 5/03 alleging Campbell and 2 other priests abused her 16-yr-old son at St. Vincent Archabbey in Latrobe 1980-82. Claims against Campbell dismissed 5/04 but son had filed individual suit 2/04. Both suits settled.
Altoona-Johnstown, PA
Source:
Centre Daily Times 05.21.03; Pittsburgh Post Gazette (AP) 05.21.03; Post-Gazette 02.07.04; Associated Press 05.18.04; Tribune-Review 02.16.05; Pittsburgh Tribune - Review 05.11.05
Assignments:
BA.org Assignment Record
Campbell

Hugh P.
1961
P
Accused
Diocesan
Msgr. Campbell retired from Saint Maximilian Kolbe, West Chester, in 2007 and moved into private residence. In 12/11, he "self-reported sexual abuse of a minor" approximately 40 years previously and was placed on leave by Archdiocese. On 5/20/12, Archdiocese announced it had found him not suitable for ministry. Campbell has accepted a supervised life of prayer and penance. Died 2/13/16.
Philadelphia, PA
Source:
CBS Philly 05.20.12; NBC 10 05.20.12; Statement by Archdiocese of Philadelphia 05.20.12; The Sentinel 05.20.12; Philadelphia Daily News 05.21.12; Philadelphia Inquirer 05.21.12; The Daily Local Obituary 02.16.16
Campbell
James D.
1972
P
Convicted
Missionaries of the Sacred Heart
Worked at parish in West Warwick, RI from 7/75 to 11/77 and as chaplain at Rhode Island Medical Center for Diocese of Providence at the same time. Placed on leave by Order in 2002 after allegations of abuse of boy in Worcester, MA received. Indicted 9/03 and convicted 2004 of abuse of 2 teens, one a girl. Sentenced 1/05 to 90 days in house of correction and 10 yrs probation. Laicization announced 3/05.
Providence, RI
Source:
Telegram & Gazette 09.13.03; Worcester Telegram and Gazette 12.23.04; Worcester Voice 01.11.05; Telegram & Gazette 01.12.05; Providence Journal-Bulletin 03.21.05; Pawtucket Times 03.22.05
Assignments:
BA.org Assignment Record
Campbell
John J. (Jack)
1950
P
Settled
Jesuit
Order paid $185K in 2003 to former student who alleged abuse by Campbell in early 1970s in "therapy sessions." Officials said this was the 13th man to bring credible allegations but 1st to make allegations public. Not all were minors. Over $575K in settlements and medicals paid in 14 year period. Removed from contact with children in 1987, from public ministry in 1989, and lost priestly faculties in 1993. Order moved him to Denver in 1991. Died 4/10/09. New suit filed 6/12 against Order & Gonzaga prep.
St. Louis, MO
Source:
St Louis Post Dispatch 10.23.03; St Louis Post Dispatch 12.17.03; Associated Press 12.20.03; Denver Post 12.22.03; Denver Post 12.23.03; Denver Post 03.04.04; News Tribune 06.14.12; Spokesman-Review 06.15.12
Assignments:
BA.org Assignment Record
Campbell
John Robert (
1958
P
Accused
Diocesan
Archdiocese announced in 8/17 it had recently received an allegation that Campbell sexually abused a minor in the 1960s at St. Louis Prep Seminary, where he was on faculty. Also taught at St. Pius X High in Festus in the 1980s and assigned to parishes in Crestweoo, St. Louis, Wellston and Valley Park. Retired in 1989. Living in a private residence. Archdiocese stated it knew reports in the 1990s of abuse by Campbell, and that he has been on permanent administrative leave.
St. Louis, MO
Source:
St Louis Review 08.31.17
Campbell

Michael A.
1979
P
Accused
Diocesan
Campbell, who was removed from his duties in 3/02 admitted having "inappropriately touched" a 17 year old boy about 13 years previous. At some point, Campbell confessed to the archdiocese. He was sent for treatment and reassigned.
St. Louis, MO
Source:
Associated Press 03.03.02; St. Louis Post Dispatch 03.03.02; St. Louis Post Dispatch 03.03.02; St. Louis Post Dispatch 03.04.02; St. Louis Post Dispatch 03.21.02; Riverfront Times 03.27.02; St. Louis Post Dispatch 04.03.02; St. Louis Post Dispatch 04.04.02; Times [Shrewsury MO] 03.06.05
Campbell
Stuart B.
1930
P
Sued
Dominican
Campbell had a very spotty assignment record. Sometimes he was listed and sometimes he wasn't. One case filed in Fresno County in 2003 or 2004 accused Campbell of abuse from 1956 to 1959 before Diocese of Monterey was created. Statement by Bishop Ryan of Monterey refers to Campbell as a religious order priest. Campbell died in 1986.
Monterey, CA
Source:
Bishop Ryan's Pastoral Letter 2.4.04; Monterey County Herald 01.28.04
Assignments:
BA.org Assignment Record
Campobello

Mark A.
1991
P
Convicted
Diocesan
Arrested 12/02 when 18 yr old girl alleged abuse at 14 when he was ass't principal/spiritual dir at school. Placed on leave. Indicted again 10/03 on charges that he molested 2nd girl from 1999-2000 in different county. Pled guilty 2004: sentenced to 8yrs (4 for each girl). 2 civil suits filed 2004 & settled 5/07 for $2.2M. At least 1 more credible accuser. Laicized 6/05. Released from prison 2/13/08. Back in prison 4/08; soon released. Back in 4/09. Released 7/28/10. Lives in Crystal Lake, IL.
Rockford, IL
Source:
People v Campobello, Cause No 2-03-0725; Chicago Sun Times 12.05.02; Daily Herald 02.27.03; Rockford Register Star 05.23.03; Chicago Sun Times 11.01.03; Chicago Sun Times 05.14.04; Chicago Daily Herald 06.16.04; Chicago Daily Herald 09.28.04; Chicago Daily Herald 11.10.04; Courier News 11.24.04; Kane County Chronicle 12.07.04; Rockford Register Star 04.27.05; Chicago Tribune 12.20.06; Rockford Diocese Press Release 05.10.07; Rockford Register Star 05.11.07; Geneva Republican 01.23.08; Chicago Daily Herald 07.08.08; The Chronicle 04.09.09; Rockford Register Star 04.10.09; Rockford Register Star 07.19.10; Chicago Daily Herald 07.28.10
Cannon

John A.
1948
P
Sued
Diocesan
Removed 2003. Accused of abuse of at least two youths in late 1950s and 1960s. By 1964, at least six boys had complained to the Archdiocese that Cannon would sneak into their cabins at camp in the night and molest them. Civil suits filed 2004. As of 2/05, his ministry had been permanently restricted and he was living a life of prayer & penance. Named in 2006 suit which was dismissed by court. Appeal rejected by 3rd Circuit Court of Appeals 11/07. On 1994 secret list. Died 5/31/17.
Philadelphia, PA
Source:
Mangum v Archdiocese of Philadelphia et al; Philadelphia Inquirer 12.18.03; Philadelphia Inquirer 12.19.03; Philadelphia Daily News 05.18.04; Lancaster New Era 05.19.04; Philadelphia Inquirer 09.17.05; Philadelphia Grand Jury Report 09.21.05; Philadelphia Grand Jury Report Appendix 09.21.05; Philadelphia Inquirer 09.25.05; Law com 11.07.07; 1994 Memo from Fr William Lynn to Asst Vicar for Admin re Names in Philadelphia Secret Archives, released 02.27.12; Philadelphia Inquirer 04.02.12; Washington Post 04.02.12; NY Times 04.03.12; Cathoics4Change 06.07.17; Cavanagh Funeral Home accessed 06.14.17
Assignments:
Archdiocese of Philadelphia Priest Data Profile; Archdiocese of Philadelphia Assignment Record (revised)
Canu
Anthony
< 1956
P
Accused
T.O.R. Franciscans
On 1/03/14 the Diocese of St. Cloud released the names of 33 clergy, including Canu, involved in incidents of likely claims of sexual abuse of minors. No information on the parish where the abuse occurred or when it occurred but he served at Our Lady of the Angels Boarding School, Belle Prairie. His current status is unknown.
St. Cloud, MN
Source:
Diocese of St Cloud--Bishop Kettler Press Release, 01.03.14; Legal Examiner 01.03.14; St Cloud Times 01.03.14; WJON 01.03.14
Assignments:
BA.org Assignment Record
Caparella
Alan E.
1966
P
Settled
OFM Franciscan
Attorney Garabedian announced settlement 9/13 on behalf of one individual who alleged abuse by Caparella at some point between 1963-1985. Caparella was working at St. Leonard's Parish in Boston at the time. No further information is known. He was assigned to Holy Ghost Church in Whitman at the time of his death in 4/91.
Boston, MA
Source:
Boston Globe 04.03.91; The Republic (AP) 09.04.13; SNAP Press Release 09.12.13; WESA 09.12.13
Assignments:
BA.org Assignment Record
Caparelli

Robert N.
1964
P
Convicted
Diocesan
Originally reported to diocese in 1968. Abused several boys before being arrested in 1991. Sentenced 7/92 to 2 1/2 to 5 yrs prison. Another charge re abuse of 2nd youth added additional time to his sentence in 1993. He died in prison 12/94. Named in civil suits. Had been moved several times after diocese knew of his actions. 2 suits settled 1996. 1 man settled his 2005 lawsuit 01/07 for undisclosed sum.
Scranton, PA
Source:
Morning Call 05.06.93; Johnson v Caparelli, 625 A2d 668 (PA 1993) 05.13.93; Pennsylvania Law Journal 05.31.93; Legal Intelligencer 10.25.93; Times-Tribune 12.13.05; Associated Press 12.14.05; Times Leader 12.14.05; Times Leader 07.09.06; Times Leader 07.09.06; The Citizens Voice 01.04.07; Times Tribune 01.04.07; Times Leader 01.05.07; Times Leader 04.07.14
Assignments:
Times Leader 7.9.06
Capato

Justin J.
1980
P
Sued
Benedictine
Named as abuser in civil suit filed 3/20/12 by two men who allege abuse at Delbarton School between 1977-1979. One man also alleged abuse in 1980 by Luke Travers. The father of the brothers told school about the abuse in 2004. It was also reported to St. Mary's Abbey in 2010. Capato was working as parochial vicar at Notre Dame of Mt. Carmel Church in Cedar Knolls, NJ when suit was announced. St. Mary's Abbey reports he is currently under restrictions and being monitored.
Paterson, NJ
Source:
The Record 03.19.12; Daily Record 03.20.12; Observer-Tribune 03.20.12; Star-Ledger 03.20.12; The Patch 03.20.12; Press of Atlantic City 03.21.12; Star-Ledger 03.25.12; Star-Ledger 04.04.12; WHTC 06.05.12; Observer-Tribune 12.11.12; Courthouse News Service 03.26.15; NJcom 03.03.17
Capellupo

Frank J.
1975
P
Arrested
Diocesan
Often held late-night parties in rectory for teenage boys. Bishop Daily was informed of this fact by at least two priests but did nothing. In 2000 Capellupo was arrested for allegedly sodomizing a 14 yr old boy staying at rectory because of problems at home. Per April, 2002 article, charges were soon dropped and case sealed per spokesman for Brooklyn DA. 2nd man came forward to claim abuse in 1980s. Has been on leave since 2002. Diocese found allegations credible 6/05,
Brooklyn, NY
Source:
Newsday 2.4.04; Newsday 4.9.02; Daily News 06.14.00; USA Today 11.11.02; Diocese of Brooklyn News Release 06.28.05
Capparelli

John M.
1980 ?
P
Sued
Diocesan
Named in 7/11 suit re abuse of one youth. Made boys wrestle in skimpy bathing suits and photographed them. Sold videos on web. He also groped plaintiff. Suit names Scouts and Diocese. Left active priesthood in mid-1980s. Privileges removed 1992; sent for treatment. Taught high school in Newark for 20 yrs. At least 24 other men came forward with same complaints. Removed to non-teaching job 11/11. Another suit filed 21/11. Both settled 2012. Surrendered teaching license for public schools 6/13. It is believed he was laicized in 3/14. His appearance at annual Family Festival at Our Lady of the Valley parish during the week of May 14th resulted in suspension without privileges of the pastor, Fr. Chris Di Lella, a long-time friend, by the Bishop of the Paterson diocese.
Newark, NJ
Source:
Star-Ledger 10.16.11; Star-Ledger 10.16.11; Post-Star 10.17.11; WABC 10.17.11; Star-Ledger 10.23.11; Star-Ledger 10.30.11; Star-Ledger 11.01.11; Star-Ledger 11.22.11; Star-Ledger 11.22.11; Star-Ledger 12.16.11; NPR 01.03.12; Star-Ledger 06.30.13; The Record 05.23.14; The Record 05.23.14; Bishop's Response in The Record 05.28.14
Capua

Nicholas J.
1956
P
Accused
Diocesan
Placed on leave without privileges in late May, 2007 after diocese deemed credible allegations that he had abused several minors in mid 1970s. Capua denied the allegations. Matter was to be referred to the Vatican for further review. Reportedly died 8/2/10 at Our Lady of Consolation Rehabilitation Center.
Brooklyn, NY
Source:
Times Ledger 05.31.07; The Tablet 06.02.07; Queens Courier 06.06.07; Queens Courier 06.14.07; Times Ledger [Queens NY] 08.25.10
Carelli

Richard J.
1953
P
Sued
Diocesan
In 4/03 suit, man alleged Carelli abused him in 1964 when Carelli was headmaster of former Sacred Heart Academy in Worcester. Man said Carelli would call him into the principal's office and abuse him there. Man said that he failed only one subject that year but that Carelli kept him back, stating it was "because Plaintiff had refused his advances." Retired 1993 and died 2000. Total of 3 suits settled out of court by 2/06.
Worcester, MA
Source:
Sunday Telegram 12.10.00; Telegram and Gazette 04.16.03; Telegram & Gazette 02.15.06
Carew
Michael John
1946
P
Accused
Society of the Divine Word
Worked in Archdiocese of Accra 1946 (1949?)-1957. Worked in Boston from 1957 and was incardinated there in 1964. Voluntarily laicized in 1971. Accused in 2002 of sexual abuse of 2 girls in early 1960s. Possibly a 3rd female victim. He was assigned to Immaculate Conception parish in Newburyport 4/60 to 2/63. Boston archdiocesan list on 8/25/11 stated he was publicly accused on other grounds after his laicization.
Boston, MA
Source:
McCarthy Memo 04.01.02; McCarthy Memo 05.01.02; Oliver Letter 05.20.03; Archdiocese of Boston List (page 4) 08.25.11; Daily News 08.26.11
Assignments:
BA.org Assignment Record; Archdiocese of Boston Assignment History 12.18.11
Carey
Cleve W.
1960
P
Sued
Diocesan
Accused of abuse between 1963-1966. LA archdiocese says 2 accusers. Named in at least 1 civil suit. Retired 1976; died 5/31/88. His "personnel file" proffer was released 1/13.
Los Angeles, CA
Source:
LA Archdiocesan Report 2.17.04 page 1; The Patch 2.4.13
Assignments:
LA Archdiocesan Report Addendum 11.15.05; LA Times Database 4.20.06
Carey

Dennis G.
1998
P
Arrested
Diocesan
Resigned from position at St Paul in Chains church in Waterford 6/12 after police began investigation into 275 child abuse images aka child porn and 63 videos on church computer. Worked 25 years as CPA before ordination. Arrested; arraigned 7/3/12. Admitted addiction to child porn for 2 years but denied any improper touching of a child and pled not guilty. In treatment 9/12 at St John Vianney. Died 5/20/13.
Norwich, CT
Source:
WFSB 06.30.12; Hartford Courant 07.01.12; The Patch 07.01.12; The Day 07.02.12; Hartford Courant 07.03.12; New Haven Register 07.03.12; Norwich Bulletin 07.03.12; SNAP Statement 07.03.12; The Day 07.03.12; The Day 07.03.12; The Day 07.03.12; The Patch 07.03.12; The Patch 07.04.12; The Patch 07.06.12; The Day 07.08.12
Assignments:
Norwich Bulletin 7.8.12 (add'l article); The Day 7.9.12 (add'l article); The Patch 7.9.12 (add'l article); The Patch 9.5.12 (add'l article); The Day 5.29.13 (add'l article)
Carignan

Wilfred Laurent
S
Arrested
Trappist
Carignan, described as a "monk-in-training" who was not accepted into the order, was accused in 2011 of molesting a youth while working at St. Benedict's Monastery as a beekeeper. The boy was a 6th or 7th grader who was being tutored by Carignan in approx. 2000 when alleged abuse occurred. At time of arrest, Carignan was serving two separate 6 yr - life sentences for abuse of another youth. Conviction was in 2008.
Denver, CO
Source:
Post Independent 05.12.11; TheDenverChannel 05.12.11; Aspen Times 05.13.11
Carley

Edward B.
1948
P
Settled
Diocesan
Accused of abuse of boys in 1960s-1980s. Parent complained in 1957; nothing done. Another complained 1995. Suit filed 1997; dismissed on SOL. Name publicly released when one man settled for $65K in 2005. Retired in 1993; died 1998. Name on list of abusive priests released 11/16/06. More suits filed 12/06 & 7/08. 2006 suit settled 4/09 for $1.5M. Plaintiff died day after signing settlement. At least 3 other settlements 2010 & 2011. Personnel files released 2/12.
Wilmington, DE
Source:

DUNWOODY—Msgr. R. Donald Kiernan was remembered Jan. 19 as a dedicated pastor, a chaplain to Georgia's first-responders and a life-loving personality who was part of the transformative growth of the Catholic community and the Atlanta region over the last 68 years.
The most senior priest of the Atlanta Archdiocese died at the age of 93 on Jan. 9. His funeral Mass, delayed two days by snowy weather, was celebrated Jan. 19 at All Saints Church in Dunwoody, where he was pastor for 25 years. A vigil service of evening prayer was held there Jan. 16.
When Msgr. Kiernan was ordained in May 1949 for the Diocese of Savannah, the Atlanta Archdiocese hadn't even been established. The population of the metro Atlanta region was around 725,000 people, one-eighth of what it is today at 5.8 million people.
Massachusetts native Msgr. R. Donald Kiernan was ordained a priest May 4, 1949. His first assignment in Georgia was at the Cathedral of St. John the Baptist, Savannah. His first Atlanta assignment was at the Shrine of the Immaculate Conception, Atlanta.
He served under every bishop of Atlanta, from the first, Bishop Francis E. Hyland, to Archbishop Wilton D. Gregory. In addition, the gregarious priest from Massachusetts made friends in Georgia at every crossroads where he served. At a time when Catholics were a small minority in the state, facing prejudice and ignorance of the church, Msgr. Kiernan had friends at the statehouse, in the police precincts and at the neighborhood pubs and restaurants.
Unofficially, "he was probably the best public relations person the diocese ever had," Msgr. Edward J. Dillon said.
"He never met a stranger," said his longtime friend, who presided at the vigil service.
Speaking to a full church at the funeral Mass, three people gave their perspectives of Msgr. Kiernan's broad impact across so many years. Bishop Bernard E. Shlesinger III was the principal celebrant, with over 50 priests concelebrating the Mass. A single guitarist and soloist, Mike and Mary Peterson, led the congregation in the music, which reflected his Irish heritage. Members of the parish Knights of Columbus Council 11402, of which he was a member, formed an honor guard.
Homilist Deacon Bill Garrett, who served with Msgr. Kiernan at All Saints Church, said he was a "joy-filled man" who "believed in Jesus and wanted to share that love with others."
When Deacon Garrett approached him about serving as a deacon at the parish, Msgr. Kiernan warned him, "I've been a priest for 59 years and I have done things pretty much the same for 59 years. Are you OK with that?"
"He was a man of habit," the deacon said.
It was difficult for Msgr. Kiernan to retire as pastor of All Saints Church in 2011, but "perhaps his best preaching was in the waning years of his life, preaching not with words but actions," Deacon Garrett said.
"He went to the Lord often for his strength and encouragement," he said.
"He accepted the sufferings and indignities that often accompany age and illness," celebrating Mass at the parish with difficulty for the last time about three months ago, with the assistance of Msgr. Hugh Marren, the pastor.
"A parishioner said, in monsignor's suffering he could see Christ himself," Deacon Garrett said.
His favorite Scripture was "come to me all you who labor and are overburdened and I will give you rest."
Friends from all over
Beginning his priestly service in Savannah, as an assistant pastor at the Cathedral of St. John the Baptist in 1949, the young priest from Taunton, Massachusetts, was then sent to the Shrine of the Immaculate Conception in Atlanta in 1951. During that time, the church's location next to the state Capitol brought him near to legislators, the mayor and police chief and the governor.
He became particularly friendly with Atlanta Police Chief Herbert Jenkins and Atlanta Mayor William B. Hartsfield, Msgr. Dillon said, and the mayor regularly ate lunch at the shrine. His later work as a Georgia State Patrol chaplain brought him into contact with the governors.
In the early 1950s, the Lebanese Catholic community worshipped at the shrine. Msgr. Kiernan began a lifelong friendship with their families that continued after the Melkite Catholic Church, St. John Chrysostom, was dedicated in Atlanta. His photo hanging on the wall at Manuel's Tavern was a sign of his continuing closeness to the Maloof family, according to a tribute posted on social media after his passing.
When the Atlanta Diocese was established in 1956, Msgr. Kiernan was assigned to it. His service over decades extended across the breadth of the new diocese, from St. Peter Church in LaGrange to St. Anna Church in Monroe, St. Michael Church in Gainesville and St. Bernadette Church in Cedartown. He was also pastor of St. Anthony of Padua Church in Atlanta, St. Jude the Apostle Church in Sandy Springs and Immaculate Heart of Mary Church in Atlanta, each with a parish school. His last pastorate at All Saints, beginning in 1985, was his longest in one location. Many parish structures were planned and built while he was pastor. He also welcomed Chinese Catholics to begin meeting at All Saints, fostering the growth of this community which now has a dedicated mission, Holy Name of Jesus, in Norcross.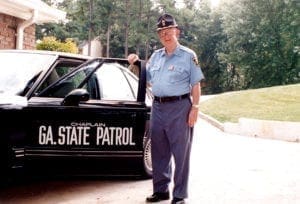 In addition to serving as a chaplain for the Georgia State Patrol, Msgr. R. Donald Kiernan was a chaplain to the DeKalb County police, Metro Atlanta police, Federal Bureau of Investigation and local division of the Bureau of Alcohol, Tobacco and Firearms. Photo By Michael Alexander
In addition to being a pastor, he was asked to help simultaneously with various archdiocesan departments and ministries. He was editor of The Georgia Bulletin from 1956 to 1962, writing his folksy "Georgia Pines" column about the new diocese and its parishes. He continued as a consulting editor until 1968 and as acting editor from 1968 to 1969. Msgr. Kiernan was named a monsignor in 1969.
He assisted in the Metropolitan Tribunal where marriage cases were considered, in Catholic education and in priest personnel. From 2000 to 2005, while at All Saints he was also one of the vicars general of the archdiocese.
Alongside this, Msgr. Kiernan from the start of his priesthood ministered to those in law enforcement in Georgia. He helped to found police associations and chaplaincies, including the Georgia Association of Chiefs of Police, and served as a chaplain to local and state police agencies, including Atlanta, DeKalb County, the Georgia State Patrol and the Georgia Bureau of Investigation.
Vernon Keenan, director of the GBI, who attended the funeral Mass, said he and Msgr. Kiernan had been friends for 40 years. The priest and a Baptist minister from Macon started the chaplaincy program for law enforcement in Georgia where none previously existed, Keenan said. Chaplains provide spiritual and emotional support to officers and assist with death notifications and in other roles. Msgr. Kiernan told him his interest in their work began when he was a priest in Savannah and was invited to ride with officers there.
"He was always viewed as a police officer. The police always accepted him as one of their own," Keenan said.
His "great sense of humor" hit home with those in uniform, who needed that same type of humor to do their jobs, he said. They knew him as "monsignor," but he served people across all faiths. "We never thought of him as being a priest. He was a chaplain," Keenan said.
Msgr. Dillon, also a police chaplain, said, "If he went on a trip and didn't get stopped one or two times by the police, it was a failure."
When agencies had to deal with the horror of the uncared-for human remains at the Tri-State Crematory in north Georgia, Msgr. Kiernan came to "check on the first responders" and brought the archbishop, Keenan said. He was a phone call away when needed, Keenan said.
Those he served came first
The GBI director without the priest's knowledge nominated Msgr. Kiernan for an honorary doctor of law degree he received at Georgia State University. It was one of several given during his lifetime, leading to his nickname as "Doc" Kiernan. Others were from Biscayne College in Miami Gardens, Florida, and Providence College in Providence, Rhode Island, his alma mater.
Chris Harvey, a director in the Office of the Georgia Secretary of State, spoke at the conclusion of the funeral. He said he knew Msgr. Kiernan first as his boyhood pastor at St. Jude and later as a DeKalb County police recruit at the academy where the priest's message "never left my conscience." The message was to "be sincere" in his work and recognize that those he would serve would come first.
The priest always started his homilies with the phrase "my dear people," Harvey said, and began with a story or a joke before making the sign of the cross and preaching the homily itself.
"He did not take himself too seriously," he said.
He said that the priest and first responders had a natural friendship because they recognized each other's vocations.
"Everyone who ran toward the danger, the darkness … had a special place in his heart," Harvey said.
Msgr. R. Donald Kiernan arrived in Atlanta on Nov. 16, 1951. He served as the pastor in Cedartown, Gainesville and Atlanta between 1956 and 1985. His last pastoral assignment was at All Saints Church, Dunwoody, the site of his Jan. 19 funeral. Photo By Michael Alexander
"Monsignor loved the frontline public servants because he lived his life in the same way. … He knew the vast majority … did their jobs out of a sense of vocation," he said.
While he related to people as they were, "he wanted you to know how holy you could be," Harvey said.
To the delight of the congregation, eulogist Dave Fitzgerald reprised the familiar voice of Msgr. Kiernan, whose Massachusetts accent was unchanged by living for six decades in the South.
They had lunch frequently since the priest retired to St. George Village in Roswell and Fitzgerald said it gave him a "fabulous ringside seat" to hear the stories of his life. He cited Joan McIvor, a longtime staff member to the priest at All Saints and his caregiver and friend, for keeping his life full of "fun and joy," through events like dinner and lunch reunions with surprise guests.
Born on Dec. 28, 1924, Msgr. Kiernan was the son of Thomas and Lena Doherty Kiernan. He wanted to be a priest since childhood. As a young man, he briefly tried study in a Dominican seminary but left almost immediately for several reasons, Fitzgerald said, including the impossibility of him keeping a vow of silence. This disappointment was compounded when his home diocese of Fall River, Massachusetts, did not accept him as a seminarian.
However, Mount St. Mary's Seminary in Emmitsburg, Maryland, did accept him. There he met and was recruited for Georgia by Msgr. P.J. O'Connor, a legendary vocations director who was seeking priests to serve in the understaffed mission region.
When Msgr. Kiernan was ordained a priest on May 4, 1949, by Boston Cardinal Richard Cushing and came to Georgia, there were 33 Catholic priests in the state, Fitzgerald said.
"He served us all with distinction, with gratitude and with joy," Fitzgerald said. "So many times he said 'If there ever was a happy priest, you're looking at him.'"
"He was deeply, deeply good, and he made those around him feel deeply, deeply good," Fitzgerald said.
The procession out of the church concluded with a ceremony by an honor guard from DeKalb County Police and the Georgia State Patrol, including the playing of taps and folding of the American flag. At a reception afterward, hundreds of people shared a meal and memories that would fill many time capsules.
---
Donations in memory of Msgr. Kiernan may be made to Our Lady of Perpetual Help Home, 760 Pollard Blvd., SW, Atlanta, GA 30315 or www.olphhome.com.